PROGRAMME SUMMARY
CORE is the central programme of the FNR. A multi-annual thematic research programme, the prime objective of CORE is to strengthen the scientific quality of Luxembourg's public research in the country's research priorities adopted by the Government on 20 December 2019.
CORE projects should be innovative and of high scientific quality. All projects are peer reviewed by international reviewers.
New for 2021
The CORE junior track has been revised: Its purpose has been revisited, taking out all direct references to "career development" and refocusing it to "CORE project funding" for first-time project leaders. The target population has been further specified. Support for mentorship is offered as an optional feature.
The FNR has introduced a new narrative-style CV in its funding programmes, which in conjunction with an updated ORCiD profile, allows the full picture of a researcher to be evaluated. The goal is to allow an applicant to be more fairly evaluated on their scientific vision, appropriate experience, and broader contributions to science and society, beyond the limited focus of metrics and quantitative lists.
Extension of international collaborations: CORE International
DURATION
CORE projects have a lifespan of 2 – 3 years and funding is allocated on a competitive basis.
FUNDING SPECIFICS
The FNR allocates a maximum financial contribution of 24 MEUR for the CORE 2021 Call.
APPLICATION INFORMATION
Deadline for submissions is Wednesday, 21 April 2021, 14:00 CET.
Funding decisions will be communicated to applicants by end-October 2021.
First time CORE applicants are strongly encouraged to contact the FNR for additional guidance prior to submitting a research proposal.
SUPPORT FOR INTERNATIONAL COLLABORATIONS
Within the CORE programme, bilateral and trilateral projects with project partners requesting funding from e.g. DFG (Germany), SNF (Switzerland), FWF (Austria), FWO (Belgium), or FNRS (Belgium) may be submitted under the lead agency principle. Further bilateral collaborations are possible with researchers funded by NCBR (Poland; for ICT only), by EMBL or by the Autonomous Province of Bolzano – South Tyrol (Italy). Proposals have to be submitted as "CORE international" and must fulfil all requirements of the CORE call.
Further funding opportunities for joint projects in cross-border collaborations are supported within the FNR's INTER programme.
Find out more about International Cooperation opportunities
---
See also..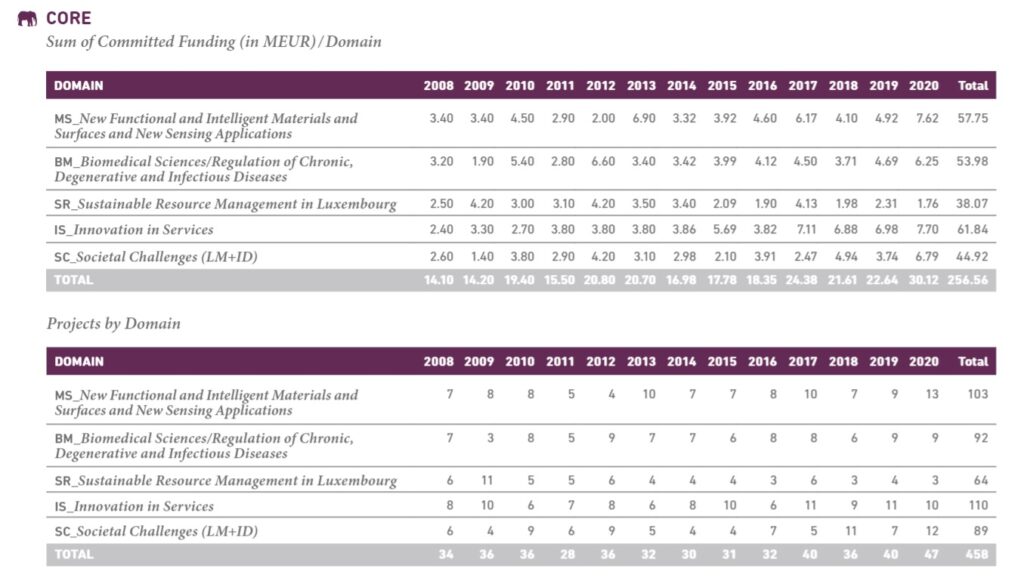 All

Humanities & Social Sciences

Life Sciences, Biology & Medicine

Materials, Physics & Engineering

Spotlight on Young Researchers

Women in science